American Management Association

Online Career Expert of the Year


Top Career Expert to Follow on Twitter

Top Business Expert to follow on Twitter

Alexandra's presentation was the best I've seen on generational issues. Her roadmap has already helped me tremendously in communicating these concepts to my managers.
- John Inman, T-Mobile
Bestselling Books
International bestseller They Don't Teach Corporate in College has been translated in multiple languages and is used as a text in hundreds of universities and businesses. Please check out the welcome video for the fourth edition!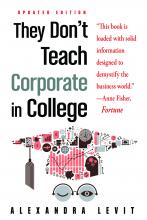 Spotlight
Alexandra is currently working on a grant with Northwestern University and the National Institute of Health that leverages consumer technology to provide unemployed individuals with a unique combination of mental health and job training support.