American Management Association

Online Career Expert of the Year


Top Career Expert to Follow on Twitter

Top Business Expert to follow on Twitter

I've been a fan of Alexandra's since I first read her book when I was a young professional. It's incredible now that she is able to come to campus and be my partner in informing and motivating the next generation of talent.
- Brad Gorman, Whirlpool Corporation
Bestselling Books
International bestseller They Don't Teach Corporate in College has been translated in multiple languages and is used as a text in hundreds of universities and businesses. Please check out the welcome video for the fourth edition!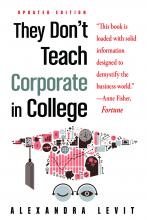 Spotlight
Alexandra is currently working on a grant with Northwestern University and the National Institute of Health that leverages consumer technology to provide unemployed individuals with a unique combination of mental health and job training support.